Pittsburgh Today Live 1/8/18 - Best Tech & Home Products for 2017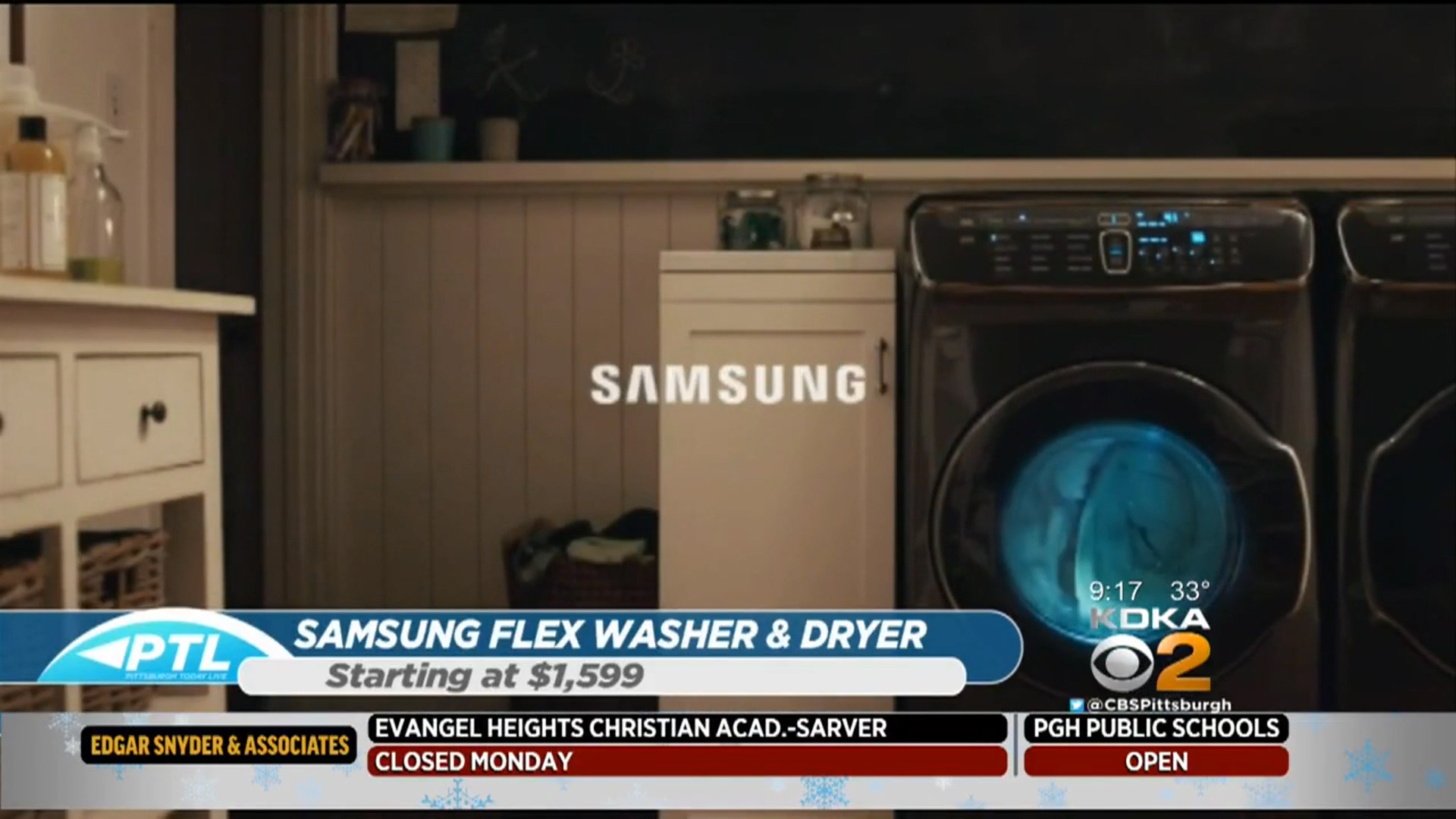 SAMSUNG FLEX WASHER & FLEX DRYER
Starting at $1599
Shop Now
Wash 2 different loads at the same time 5.0 Cu Ft & 1.0 Cu. Ft.
Wash a FULL load in as little as 30 minutes
Lower washer is Energy Star Rated
The power of STEAM eliminates stains without pre-treatment
Dryer allow you to DRY 2 different loads at the same time.
An app will give you cycle status & allow scheduling via WiFi
Integrates a beautiful design with high quality technology
Transforms into a beautiful work of art when you are not watching TV
4K Ultra HD screen technology
Art mode featuring selected works… or you can use your photos
No gap wall-mount and invisible connection hide unsightly cables
Voice control and TV to mobile/mobile to TV mirroring
Pump driven system multiplies water source by 5 times up to 320 psi
20 V Lithium-ion battery powers the sprayer. Pull water from a river, lake, pool
5 Spray Patterns with Low pressure 58-94 psi & High Pressure from 220-320
Wash the Car, RV, Deck, Patios, Windows, Patio Furniture, Bikes, and more
Sunshine in a Mason Jar
Green hi-tech using Solar Cells, Lithium Battery & LED Bulbs
Can also charge Sonnenglas with a USB cable for quick charge
Stores energy during the day and releases up to 12 hours of light at night
Decorate it for garden lighting, barbecues, camping and more
Handmade with love in South Africa. Has won several design awards
Clock is powered by water!
Simply fill with water
Uses NO electricity & is eco-friendly
Replace water after a year or so and clock keeps running
Clock features an alarm
World's first 4G GPS tracker phone for kids
Parents Control All Incoming & outgoing numbers
Geo-fencing – keeps child within certain area
SOS Button for emergencies
Touch Screen
Voice Monitoring -- Send a text to hear the surroundings
Keep your kids safe & in touch
Low-level LED light PhotoTherapy for the face
A wearable home-use phototherapy device for a number of skin-related conditions including, wrinkles, acne, hyper-pigmentation, age spots, etc.
One 10 minute segment per day 3 times per week
The modular design permits the consumer to purchase the base unit and then change the masques.
Automatically dispenses just the right amount of rich, creamy foam
Cordless and rechargeable and lasts up to 3 months on one charge
Provides a luxurious hand-washing experience
Takes the hassle out of refilling your soap pump
Developed a click-in cartridge system to make refills fast, easy and mess-free
Free up storage space for more photos & videos on your iPhone & iPad
Take another 32,000 photos and 8 hours of video
Back up just your new photos, videos, entire camera roll or a folder to BOLT
Simple-to-use app complements Apple design.
Slim form design is the same width as iPhone so you can lay flat on a table
Protective carrying case
Remove tough kitchen grease & grime
Non-toxic & safe for food prep surfaces
Versatile for all-purpose cleaning
Safer choice certified
Fragrance-free
4,000+ amazing facts about the world: covering humanities, geography, history and other aspects compiled in 13 major categories
Discover 220+ countries, geographical locations, population, leaders, etc.
Enhance your child's learning abilities through 25 educational entertainment schemes, including 13 Exploration Games, 4 Search & Find Games, 2 Compare Games, and additional 6 foreign language games
Local map for additional information on your country, allowing your child to gain additional knowledge of their home country through global insight
First Time -- SureCall has combined the inside antenna with the signal booster
Patent pending design that simplifies installation over traditional boosters
Boosts cellular coverage up to 2,500 square feet
Boosts voice, text,& 4G LTE signals for all North American carriers simultaneously
Unlike you're phone bill, it's a one-time fee.
DOT approved
IP67 waterproof/crushproof
360-degree visibility up to 1 mile
2.5x brighter
Reusable micro thin sleeve
Revive old batteries
Optimize new batteries
Save energy
Increase battery life